NoviCap in the FT1000 ranking for the second consecutive year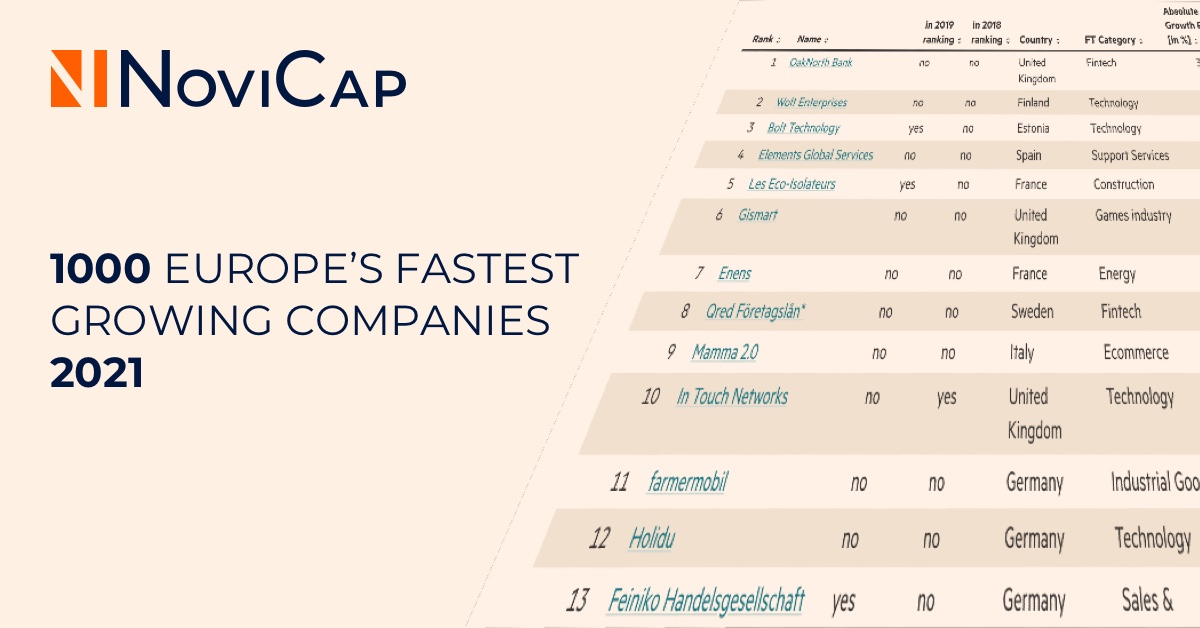 The prestigious British financial newspaper, The Financial Times, has published the fifth edition of its ranking of the 1,000 fastest growing European companies. This year NoviCap appears on the 97th position, placing itself on the list for the second consecutive year. In turn, NoviCap ranks 7th among Spanish companies and 9th position in Fintech.
The Financial Times, in partnership with Statista, seeks each year to identify the 1,000 fastest growing European companies. This is the fifth edition of the ranking which is published in a special edition of The Financial Times on paper and on FT.com. You can check last year's ranking here.
Here's a summary of NoviCap's presence in this year's FT1000 Ranking:
NoviCap is ranked 97th in the whole list
NoviCap is ranked 7th out of 54 Spanish companies in the list
NoviCap is ranked 9th of Fintech companies
The requirements for inclusion in this ranking are demanding and require growth ratios of at least 55% per year, both in terms of turnover and number of employees. It also requires that the company has achieved this growth over a period of three fiscal years.
Check here the FT1000 Ranking for 2021
This edition of the FT1000 has special merit as the companies in the ranking have managed to grow despite the adversities created by the Covid-19 pandemic. Becoming the one of the fastest growing companies in Europe is something that can only be achieved through the work and effort of a team that has once again demonstrated that the sky is the limit. Congratulations to all who are part of NoviCap, this recognition is thanks to you.
VISIT OUR FAQ PAGE AND EXPLORE ALL THE ANSWERS ABOUT NOVICAP YOU ARE LOOKING FOR