Interview with Kantox CEO, Philippe Gelis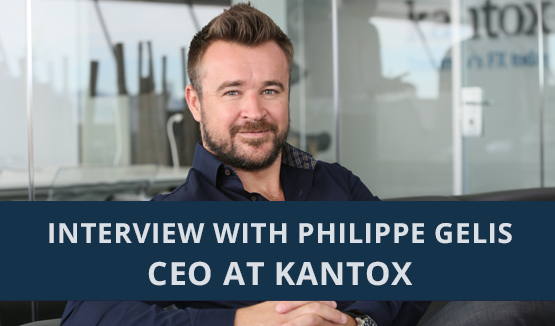 1. At the Web Summit, you announced that Fintech is not the future, but the present. What do you consider the biggest breakthroughs in the sector over the last year?
Seeing Fintech as the future is a misconception that will only benefit us in our role in expanding this sector throughout Europe. Having more than 12 billion USD invested worldwide in 2015 and finding out just how importantly our fellow bankers now rate us is a good way of seeing that Fintech's time has already began. At first they laughed at us, now they want to join us so that we don't laugh at them tomorrow (irony or mere fear?)
The biggest breakthrough still to come is in helping to build solid regulations for Fintech companies, having public and private institutions work with us to benefit consumers (something that banks forgot a while ago). Besides that, Fintech must continue to teach that it's a solid, transparent and cost-savvy way for people and companies to divorce themselves from their old-fashioned 'arranged marriage' with their banks.
2. What are the key advantages that collaboration amongst Fintech firms brings to clients?
We are building a sector within one of the most private and solid sectors around (if not the most!). As protagonists in this construction, Fintech companies must work together in order to have a more complete portfolio, without losing perspective of their expertise. Companies like NoviCap and Kantox working together on behalf of SMEs is a perfect example of two active members of Spain's Fintech ecosystem helping companies to consolidate the management of financial products and empowering clients to take decisions (and not the other way around!).
3. What is your view on the collaboration between Fintech firms and traditional financial institutions?
We are not resentful with our fellow bankers. Despite the fact that they laughed at us in the beginning, our role here is to work on behalf of clients. We want to build a co-petitive landscape. Fintech companies have a culture of innovation, fairness and transparency, putting the customer at the centre. Financial institutions have hundreds of millions of customers, huge resources and are one-stop shops.
4. Fintech platforms tackle specific services banks offer and improve them – this has been the case with payments, currency exchange, lending – which financial services will be targeted next?
Probably insurance in the short term and services for large corporates in the long term. But in the end, I am expecting to see true Fintech banks, one-stop shops offering the full scope of banking services. These banks will probably focus on specific segments: millennials, immigrants, businesses… that's part of the beauty of Fintech. Fintech companies will soon expand into becoming bank-alternative products and start to create more value. It is a complete re-shaping of the industry.
5. Although you now boast an international presence, what do you think are the key advantages and limitations of launching and operating a start-up in Barcelona?
When we started Kantox in 2011, Barcelona was also starting to become the start-up hub it's now considered to be four years later. Developing side-by-side has been a hard slog in seeking to establish the right environment for fellow companies to join us. Nobody said it would be easy, but, by helping to build the ecosystem for future start-ups, 4 years later we expected to see a much more competitive and developed ecosystem (and guess what happened?).
There's still a way to go in providing further facilities for creating companies and operating in a sector like finance, but now we have more players within it aligned with our main objectives, giving us a stronger voice in providing fairer competition.
6. The company has come a long way from its launch in 2011 – what is next for Kantox?
Kantox is just beginning. Since 2011, we've advanced in our goal to become spokespeople for Fintech and its possibilities (speaking with businessmen, angel investors, presidents and yes, fellow bankers). This is an important hurdle we have overcome because it has allowed us to help develop the sector in Spain and reinforce its presence in Europe. After that, it's time to help spread this initiative globally, generating a value proposal solid enough to compete with the global players. For example, providing free real-time SWIFT messages is one of the features we offer in order to provide confidence and transparency at every stage.
7. As you know, we recently published a list of top Fintech influencers in Spain and the online public voted you as a key representative. What do you feel is your role and objective as a Fintech influencer?
Being an influencer of Fintech issues only reinforces the great work we've been doing at Kantox in speaking widely about Fintech without being afraid of banks' response to us. If you want to compete in the big league, you must have a solid product and respond to competitors. There can be no better response for our daily work than acknowledgement of us as being relevant to and influencers in Fintech.
VISIT OUR FAQ PAGE AND EXPLORE ALL THE ANSWERS ABOUT NOVICAP YOU ARE LOOKING FOR